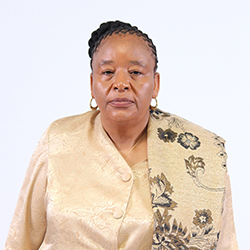 Cllr SG Mkhize
The City of uMhlathuze is blessed to secure the services and experience of the hard working Deputy Mayor, Cllr Slondile Gcinekile Mkhize, deployed by the African National Congress (ANC). Cllr Mkhize is a passionate community worker and this is evident in her political and academic career. Her demeanour, leadership style, willingness to assist at all time, her charisma and fast thinking brains, coupled with good heart makes her the darling of the City of uMhlathuze council.
Cllr Mkhize chairs the Corporate Services Portfolio Committee and also serves as an executive member. Her portfolio is responsible for a plethora of council affairs including the policies and regulations that runs the council, legal services of the city, human resources and the total image of the council and the city, to mention but a few. She was an obvious choice for this position after the August 2016 Local Government Elections. Cllr Mkhize was the head of Elections in the uMhlathuze Sub-Region of the ANC and she is credited for delivering 30 strong wards under the leadership of the mass movement. She has been driving elections and bi-elections in the City under the ANC since 2004.
Prior to that Cllr Mkhize, as the Proportional Councillors, led the Infrastructure and Technical Services Portfolio Committee where she played a direct oversight over the service delivery including water, electricity, roads, engineering services, etc.
Political History
Recently elected Chairperson of the Musa Dladla Region of the ANC Women's League.
Regional Secretary of the Women's League.
Regional Executive member for 4 consecutive terms.
Branch Treasure for two terms.
Branch secretary for 3 consecutive terms.
Has been an LET coordinator since 2004 elections including Bi elections at uMhlathuze Sub region.
The portfolio of evidence of Cllr Mkhize clearly characterise her a s a community volunteer. She has served as a Community Policing Forum in Ngwelezana, where she hails, reporting to the Mpangeni Police Station. She served as a board member in the Zululand Chamber of Business Foundation. Server as a board member of Heotonville Water Catchment Committee from 2001-2006 and she was a Professional Nurse at Clairwood Hospital from 1975-1980, McCord Hospital from 1980-1984 and Ngwelezana Hospital from 1984-2001, before joining community and political activities under the banner of the people's movement.
Cllr Mkhize is an academic of note. Having obtained a Bachelor of Public Administration (Honours) – Management School of South Africa obtained in 2015, Bachelor of Public Administration: Management School of South Africa obtained in 2014, Diploma in Local Government Management: Durban University of Technology obtained in 2010, she went on to further her skills and knowledge through short courses as follows:
Public Administration
Financial Management
Local Government Law
Ethics in Public sector
Strategic Management
Research: Public Participation at uMhlathuze Municipality
Cllr Mkhize is a proof that the City of uMhlathuze is in safe hands and she ensures that she advances and champions the course of South African Woman; not only because she is a leader in the ANC Women's Leagues, but practically proves that woman in the leadership positions are capable of changing the lives of people.